Zerowater Filter Bundle
Over
110 Million Americans

Are Drinking Water Contaminated With "Forever Chemicals" Linked to Cancer and Infertility





...and Buying Cheap Bottled Water Is Only Making Things Worse




Your Best Bet? Order ZeroWater Filter and Turn Your Tap Water Into 100% Pure Drinking Water



How Is ZeroWater Different Than Other Pour-Through Filters?

At first sight, ZeroWater doesn't look any different than a million other brands of filters/pitchers that claim to purify water.
However, when it comes to the actual results, the difference couldn't be more evident.
Namely, all those regular filters you had in mind - like Brita - only go through a 2- stage filtering process, leaving up to 50%-80% of all harmful contaminants & toxins in your water.
On the other side, ZeroWater is the first product of its kind with a sophisticated 5- stage filtering process that
removes 99.6%-99.9% of all total dissolved solids (TDS) from your water.
But Don't Take Our Word for It - Test It Yourself
These numbers can be hard to believe, we know.

That's why we'll add a FREE TDS Meter to your order, so you can actually double-check the purity of your water once it goes through the ZeroWater filter.
Just like we did here:
If it doesn't show that your water is perfectly pure and safe to drink, we'll give you your money back.
Fair enough?
Wait, There's More… 

We'll Also Send You Two Shower Filters for FREE and Cover the Cost of Shipping
Drinking is just one of the ways nasty chemicals like Fluoride, Chlorine, Lead, Mercury, Chromium, Nitrates, Sulfates, etc enter your body.
Showering is another big one.
That's why we want you to have two shower filters for FREE.
✅ You can use them on all shower types - including fixed, rain, and handheld shower-heads
✅  They will serve you for up to 6 months or 10,000 gallons, depending on usage and filtration load
✅  You'll install them in just a couple of minutes - even if you are not a DIY person. No tools required
Combined with ZeroWater drinking filter, they will protect your family from all the dangerous toxins hiding in American water and give you the ultimate peace of mind.
Plus, we'll pay for shipping, so all you need to do is wait for the package to arrive.
This Package Normally Sells for $259.99… But During This Special Promotion, You Get Everything for Just $59.95
Once again, you get:
✅ Sophisticated 5-Stage ZeroWater filter that removes 99.9% of contaminants from your drinking water
✅ Your own TDS Meter so you can double-check the purity of your water
✅ TWO Shower Filters
✅ FREE Shipping
...all for just $59.99
It doesn't get any better than this.
Here's What Our Customers Are Saying...
Frequently Asked questions

Every order of a ZeroWater Pitcher will receive two free 8-stage shower filters and a free water testing meter. To be courteous to other families, only two free shower filters per household. 


Shipping is always free for orders in the U.S. International orders and orders in HI, AK may be subject to pay for their shipping. 


We are located in the U.S and have fulfillment centers in multiple countries.


How long does it take for an order to arrive?

This depends on the product ordered. Most items will arrive in about 3-5 business days. On some occasions when products are in high demand, there will be delays due to the volume of orders. But rest assured that your order is on its way. If you're still not sure, just email us and we can offer you order specific advice. 




How long do the filters last?

The drinking system filters last on average 8-40 gallons, depending on your water's hardness and tds levels since everyone's water is different. The shower filters last 3-6 months on average and will vary based on your waters hardness, since everyone's is different. 




Here are the replacement filters: 

 

https://shopwaterguys.com/collections/best-sellers/products/4-zerowater-replacement-filters




https://shopwaterguys.com/collections/showering/products/8-stage-shower-filter-replacement-cartridges

What are your filters and pitchers made of?

Our filters are made of BPA Free Polypropylene and pitchers are made of BPA Free Polypropylene and ABS. Highest quality material🇺🇸👍


What is your refund policy?

We offer a 100% satisfaction guarantee - Which means we will resend any faulty items and items damaged in transit. We want to provide a risk-free shopping experience and trust our customers not to take advantage of us on this offer. Please note that sale items are non-refundable. 

What size is the pitcher?

The ZeroWater Size is a 6-cup. 




We have already sold out of our 10-cup and 20-cup sizes. 




So order now!

Super easy! 




Just click the "Add To Cart" button below and complete your order!
DON'T MISS OUT!
CLICK THE "ADD TO CART" BUTTON BELOW TO ORDER YOUR ZEROWATER FILTERS NOW! 
Value $259.99 Today $59.95
** Due to high demand we have extended the promotion. Each order of any size pitcher includes two free 8-stage shower filters and a free water testing meter automatically. Limit - 2 Free shower filters per household **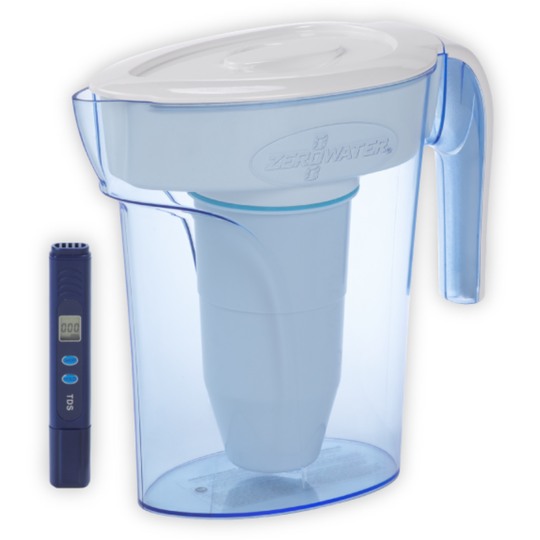 :|zpendofcontent|: